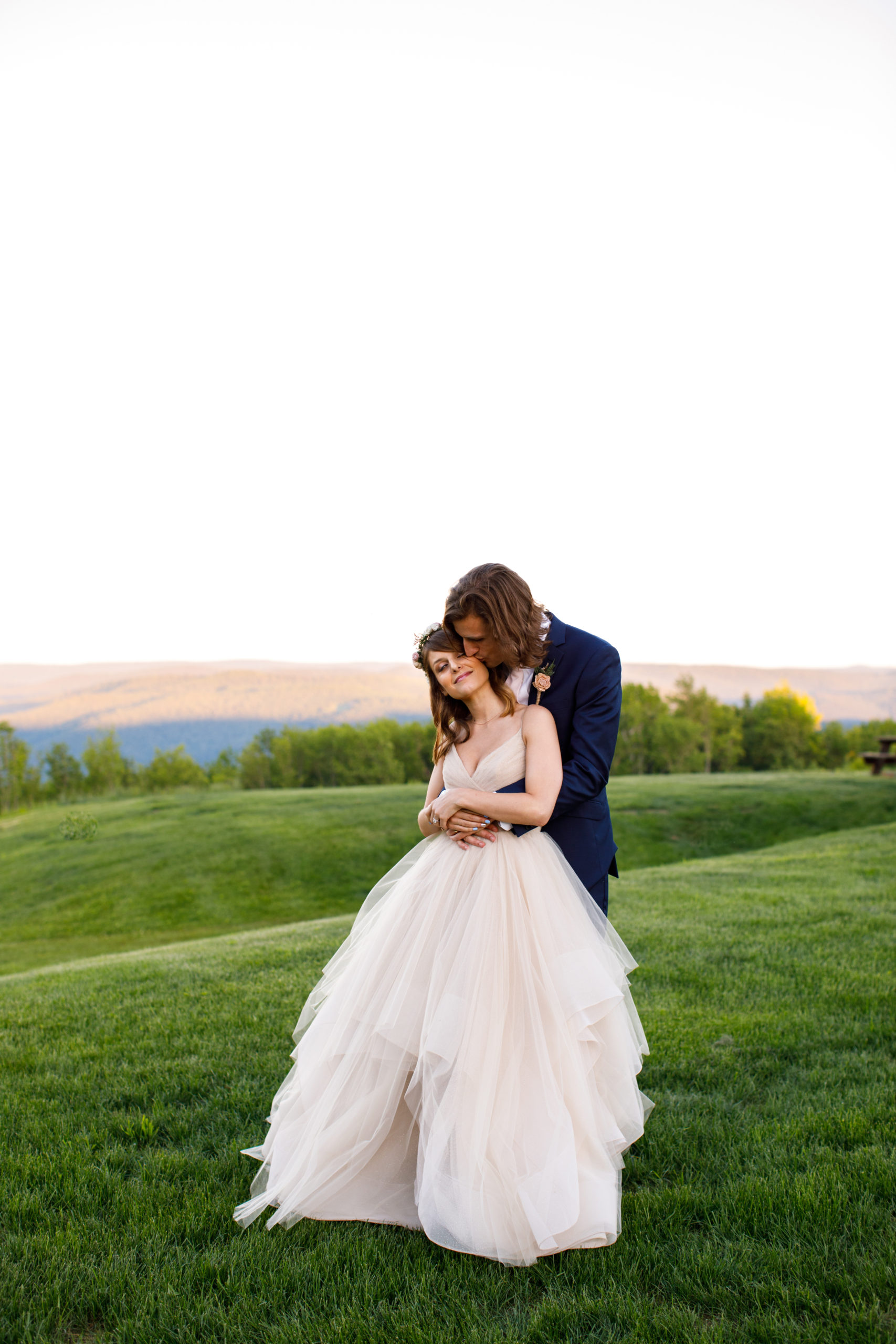 If I had to pick one word to describe Emily and Nathaniel it would be thoughtful.  Like so many of my couples they planned their wedding with such great thought and attention to detail, they choose things that represented the two of them and would accommodate their guests.  They crafted their wedding to be an experience, they had Emily's accapella group sing as she walked down the aisle, they choose brick fired pizzas for their meal, and had lots of delicious custom cocktails!  The setting could not have been any more picturesque, set atop a mountain in the Berkshires, with a cool breeze floating through the trees.
They both got ready separately at the retreat, and I loved how laid back they were.  Guests were arriving and playing frisbee and yard games while they waited for the ceremony.  I was in love with Emily's gown, oh my goodness…from the moment she put it on…she transformed into a goddess!  I also really appreciated the fact that her grandmother was there for the getting ready.  Having lost both of my grandmother's I adore watching people interact with theirs!
The ceremony was preformed by Nathaniel's brother.  And both Nathaniel and I held back tears as Emily came down the aisle.  Instead of speaking their vows to one another, they had written them out beforehand and the officiant read them.  It was such a wonderful idea for those who want custom vows but are afraid of getting to emotional in front of their guests.  After the ceremony, Emily had a surprise for Nathaniel…a baby goat!!  He was shocked and I think everyone was in love with the baby goat!  We had such a great time doing portraits, and then kicked off the party.  There were some fabulous dance moves and I loved the glow sticks!
Venue: Rose and Goat Retreat
Planner: Events by Jackie M.
Catering: Crisp Catering
Rentals: Michael's Party Rentals
Acapella Group: Sound Off
Videography: Lollie Video
Florals: Tangled Grapevine
Bouquet: EcoFlowers
Hair and Makeup: Deep Blue
Cookies: Creative Cakes by Colleen
Gown: Flair
Bridesmaid Dresses: BHLDN
Menswear: Combat Gent